Skip to Content
4 Paws Animal Rescue Finds Elderly Pets New Permanent Homes After Owners Die, Go Into Care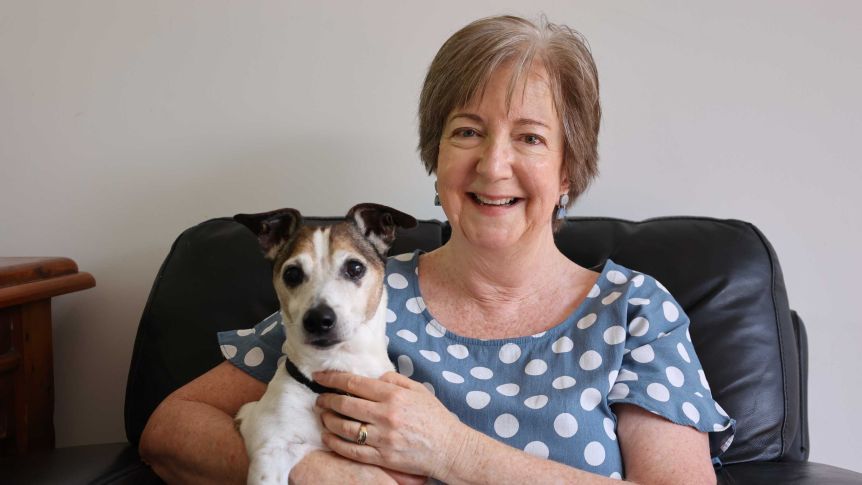 What happens to elderly pets when their owners pass away or go into aged care?
Rescuers say old pets are often dumped or misplaced and, as a result, many are euthanased instead of offered a second chance at life in a new home.
But Queensland animal rescue shelter 4 Paws is on a mission to change that, so elderly pets are not left homeless or unloved.
Old Dogs Dumped
Phoebe the miniature Maltese was taken to the pound on Queensland's Sunshine Coast, after being used as a breeder before her owners ditched her.
"She was a mess: shaking, she smelled, she was thin," said carer Bev Fleming.
"It was like looking at a pink rat. They had to shave her because she was knotted from the tail all the way up.
"She was frightened and timid. "She never left."
Ms Fleming is just one of hundreds of carers involved in a senior pets program run by 4 Paws Animal Rescue, which finds new homes for elderly cats and dogs, without the worry of any veterinary bills.
Founder Julie Penlington said she began the "permanent residents" program after caring for an elderly dog with long-term medical needs years ago.
"When we first started there was a silky terrier at the pound. She was found in a box left outside and tied up with a rope," Ms Penlington said.
"The dog's eyes were glued shut with pus. She had no hair anywhere on her body. She was in agony. "We took her in and she ended up having a full coat and [we put her with permanent carers] and that little dog had the best little life after that, and that's what started it."
Give Some Love, Get Some Love
Ms Penlington said the charity organisation had linked hundreds of elderly animals with new owners.
Often the pets had suffered years of neglect or belonged to elderly owners who had passed away or gone into nursing homes.
She said many animals were unnecessarily euthanased as a result. "Young, healthy dogs coming in are easy to rehome," she said.
See the full article here: https://www.abc.net.au/news/2020-12-30/4-paws-animal-rescue-finds-new-homes-for-old-pets/13010872
We're Hiring Compassionate Caregivers – Apply Today!